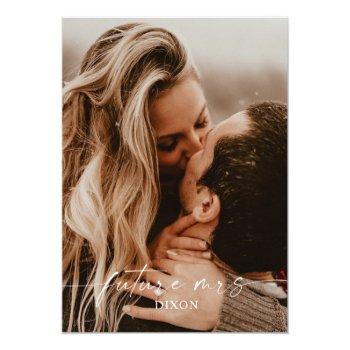 $2.61 per Invitation
Get it for only $1.57 per invitation Learn How
Save 15 to 50% On Your Next Order
A beautiful bridal shower can be both elegant and affordable. You shouldn't have to comprimise quality for style: choose the stationary you really want for your celebration, customize it to your needs, and save. Discounts start on all orders of 25 invitations or more. And you can save as much as 50% on your order.
| Order | Save | New Price |
| --- | --- | --- |
| 25+ Invitations | 15% | $2.22 Per Invitation ($0.39 Off) |
| 50+ Invitations | 25% | $1.96 Per Invitation ($0.65 Off) |
| 100+ Invitations | 40% | $1.57 Per Invitation ($1.04 Off) |
| 250+ Invitations | 45% | $1.44 Per Invitation ($1.17 Off) |
| 1000+ Invitations | 50% | $1.30 Per Invitation ($1.30 Off) |
Other Invitations You May Like
Are you still looking for the right fit for your party? We offer thousands of unique designs for nearly every type of bridal shower you can conceive. If you still haven't found the perfect design you can start by browsing these other popular options.
---
Design Notes
This lovely Bridal Shower Invitation features hand-painted watercolor florals and pampas grass to set the tone for your bohemian styled shower! Easily edit most wording to match your event! Text and arch colors are fully editable —> click the "Customize Further" button to edit! -------------- CREDITS -------------- The beautiful photo of the couple was taken by the talented Henry of Henry Tieu Photography. He is an adventure wedding and elopement photographer based out of the Pacific Northwest and loves to travel for his work. Check out his stunning feed on IG: @henrysdiary and at Henry is a very gifted photographer and such a friendly human. If you're looking for a photographing master, I highly recommend working with him!