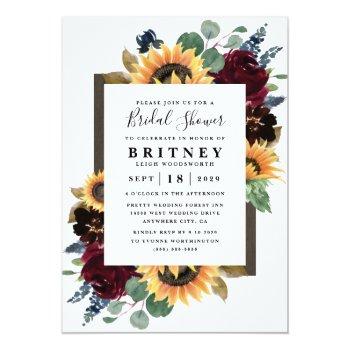 $2.00 per Invitation
Get it for only $1.2 per invitation Learn How
Save 15 to 50% On Your Next Order
A beautiful bridal shower can be both elegant and affordable. You shouldn't have to comprimise quality for style: choose the stationary you really want for your celebration, customize it to your needs, and save. Discounts start on all orders of 25 invitations or more. And you can save as much as 50% on your order.
| Order | Save | New Price |
| --- | --- | --- |
| 25+ Invitations | 15% | $1.70 Per Invitation ($0.30 Off) |
| 50+ Invitations | 25% | $1.50 Per Invitation ($0.50 Off) |
| 100+ Invitations | 40% | $1.20 Per Invitation ($0.80 Off) |
| 250+ Invitations | 45% | $1.10 Per Invitation ($0.90 Off) |
| 1000+ Invitations | 50% | $1.00 Per Invitation ($1.00 Off) |
Other Invitations You May Like
Are you still looking for the right fit for your party? We offer thousands of unique designs for nearly every type of bridal shower you can conceive. If you still haven't found the perfect design you can start by browsing these other popular options.
---
Design Notes
Design features elegant watercolor roses, peonies, wildflowers and sunflowers in various shades of burgundy red, navy blue and more over a wreath of eucalyptus greenery. Design also features a barn wood frame underneath the wreath. A unique font layout compliments the overall design. You can change the background color on the front and back to the color of your choice or leave both set to white. View the collection on this page to find matching wedding stationery products.